Mavrichev, Sergey Anatolievich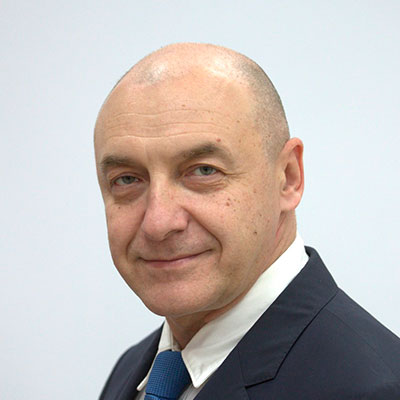 Deputy Director (for medical work)

Doctor of Medical Sciences, leading specialist of the Republic of Belarus, the highest qualification category in the specialty oncologist-surgeon
Membership in medical societies
Member of the European Society of Gynecological Oncology (ESGO),
Belarusian Society of Oncologists (BSO),
International Gynecological Cancer Society (IGCS).
Regular speaker and participant of international conferences and congresses devoted to the problems of gynecological oncology.
Professional development
Internship in Moscow (N.N.Blokhin Russian Oncological Research Center, Herzen Moscow Research Institute)
Internship in Barcelona (Spain) in surgical gynecological oncology.
Professional Activity
cytoreductive and combined operations for primary and recurrent malignant tumors of the ovaries, with tumors affecting adjacent organs of the abdominal cavity, pelvis and retroperitoneal space, including perithectomy, pelvic and total retroperitoneal lymphadenectomies, rectosigmoid colectomies, hemicolectomy, omelectrectomy stripping and resection of the diaphragm;
radical and extended surgeries for cancer of the body and cervix, including parametrectomy, combined surgeries for lesions of adjacent organs;
radical and extended surgery for cancer of vulva and vagina;
reconstructive and plastic surgery for vulvar and vaginal cancer, including plastic surgery with skin-muscle flaps, skin-fascial flaps, VY-plastic, TRAM and VRAM plastic flaps.
Scientific research and training of medical personnel
In addition to clinical work, he pays great attention to scientific research and training of medical personnel for the Republic of Belarus and other countries. The field of scientific activity is the research guidance:
The differential treatment of endometrial cancer, stage I,
The organ-sparing and functional surgery in early cervical cancer in young patients,
Ultraradical surgeries for advanced ovarian cancer,
The study of signaling nodes in gynecological oncology,
The use of hyperthermia in the chemoradiation treatment of cervical cancer, stage II-III,
Assessment of the prognostic role of retroperitoneal lymphadenectomy for uterine body cancer, intermediate and high risk,
Participation in international multicenter studies.
Under the leadership of S.A. Mavrichev, Department of Gynecologic Oncology is the only in the CIS countries have been accredited the European Society of Gynecologic Oncology (ESGO).
On the basis of the department, in addition to specialists from Belarus, representatives from different countries are constantly undergoing training, internship, residency:
Russia,
Ukraine,
Azerbaijan,
Georgia,
Kazakhstan,
Uzbekistan,
Turkmenistan,
Tajikistan,
Palestine,
Yemen and others.
Publications
He is the author of over 200 publications.